Curriculum
The Division of Regional Innovation and Management aims to cultivate human resources that can lead regional innovation with specialized knowledge and a comprehensive perspective by utilizing experience and achievements in earthquake reconstruction. This division provides the following curriculum for achieving this goal.
Our curriculum provides students with basic specialized knowledge cultivated in an undergraduate program (or at the workplace for those coming from the workforce) with "program subjects" for deepening specialized knowledge, "common graduate school subjects" (Advanced Regional Innovation) for understanding the current regional situation and cultivating basic abilities with a holistic approach to the challenges of regional innovation, "common division subjects" (Regional Internship A/B or International Internship, Global Communication, Open Seminar, and Outreach Seminar) that enable students to proactively interact with various information and experiences gained from citizens, the region, and overseas and transmit what they have learned, and "common course subjects" that play a role in combining the above common graduate school/division subjects and highly specialized program subjects at the course level.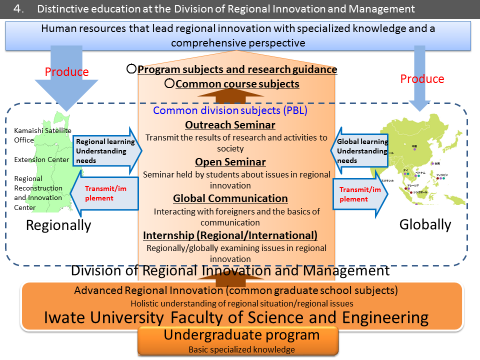 PDF
In the report meeting after the Regional Internship, International Internship, and Global Communication common division subjects, and the Regional Industry Seminar, Regional and Community Design Seminar, Human Health Sciences Seminar common course subjects, students will have discussions with students from other programs, in order to deepen their own specialized knowledge and cultivate the ability to work together with other fields.